Are You An Introvert?
Are you self-conscious when dealing with new people? Do you enjoy engaging in small talk, or you instead observe and reflect? While there are some stereotypes in workplaces assuming that extroverts are charismatic and introverts are shy, we are here to help you understand that you all have your strengths. Both introverts and extroverts have fantastic qualities, and all personalities can apply for jobs in print and packaging.
Let's start with an official definition. American Psychological Association says that introversion is "orientation toward the private world of one's self and one's inner thoughts and feelings, rather than toward the outer world of people and things. Introversion is a broad personality trait and, like extraversion, exists on a continuum of attitudes and behaviors. Introverts are relatively more withdrawn, retiring, reserved, quiet, and deliberate; they may tend to mute or guard expression of positive affect, adopt more skeptical views or positions, and prefer to work independently."
You might be an introvert, or maybe you work with someone who is. We are all different, and it's okay to be yourself. Spontaneous reactions and immediate responses are not the natural substance for introverted people. You recharge by taking more time alone, and you probably drain during a small office talk. Still, you have precious input as a highly focused and determined worker—the secret to being productive lies in utilizing time without being monitored by a higher authority. The path to success is about taking the time to understand a task before starting the project entirely. Also, introverts do excellent work getting the job done.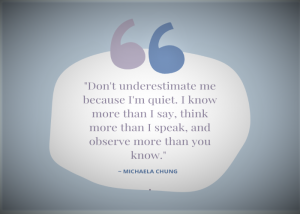 Please take a moment to learn about some positions in print and packaging that might be an excellent fit for you if you are an introverted person.
1) In the world of engineering
The print and packaging industry evolves, and it offers more and more openings for engineers. For example, packaging engineering is a growing interdisciplinary field that integrates science, engineering, and technology to protect and identify products. Packaging engineers can find employment in the manufacturing industry, including pharmaceutical, beverage, cosmetics, or food. In this role, you may design and develop packaging or oversee the actual production of the packaging. Lots of potential for suitable introverted candidates, especially if you add project management skills to the mix!
2) Science, please
The new technologies in print and packaging change the way how we design and create products. We need scientists and researchers for many reasons, including the need to build eco-friendly products to reduce the environmental impact. Expertise in product development or chemistry offer promising employment possibilities for introverts. Our team builds connections with many R&D departments and we know that you infuse the industry with amazing knowledge about materials, systems, testing, computer applications, and more.
3) Meet the eye of a Prepress Manager
Prepress Managers oversee printing jobs (typically a printing or graphics company). It's an important role that requires attention to detail and organization. As a Prepress Manager, you ensure that graphic designs and content meet all quality and technical standards before sending them to print. Introverts combine the talents of developing craft and paying attention to detail. If you enjoy handling various products (apparel, signs, labels, etc.) while editing the graphics and checking if the work is done correctly (and timely), let us know. You might be a great candidate to learn more about Prepress Manager positions.
4) No quality, no business
If you don't have good quality in print and packaging, your company may be in trouble. Quality Assurance is an essential function in every aspect of the industry, including color control, verification of crucial graphic parameters, quality assurance of packaging, etc. Can you imagine not being compliant with the requirements in the pharmaceutical or food industry? Those are just a few examples of product, market, and production demands. Yes, we need Quality Assurance professionals, and introverts are meticulous auditors ensuring relevant quality control testing procedures.
5) Responsible for all, aka General Manager
General Manager is a person who oversees most or all of a firm's functions. Contrary to functional managers, general managers must understand a broad scope of duties and responsibilities. It's about processing information, planning, and managing a team – always a demanding job to fill. If you look for an individual who analyzes situations and takes actions that benefit the business in the long run, the chances are that introverts will be strong candidates. Additionally, introverts do well in leadership positions because they listen carefully and think before they speak.
6) Is coffee is for closers
Some people think that sales professionals must be outgoing, talk active, gregarious, etc. But is it truly predicting sales performance? The answer is no. Sales are about establishing a deep and fulfilling personal and professional relationship that is built on trust. You must listen and ask questions to understand your potential client, which is what introverts do well. A silent power of paying attention to details helps to do the research and work with Customer Relationship Management platform (CRM), too.

7) The Chiefs
Finally, let's talk about Senior Executives – people who develop the vision and lead the company. Many successful CEOs have described themselves as introverts, including Bill Gates, Larry Page, and Warren Buffett. Introverts plan for success as a result of incubating new ideas as they reflect in your heads instead of thinking aloud. Appreciating ideas from others, observation and reflection help the  C-suite people create thoughtful results. Determined and focused executives take time to analyze before making decisions.
In summary, you have to take time to learn about what is hiding underneath an introverted individual. In your career and business, introverts get energy from solitude and introspection instead of seeking external stimulation, which is a great advantage. Yes, you are hard-wired for excellence in whatever field of specialty they choose at work. Our team has the pleasure of connecting with professionals, and we know that you bring different personalities and backgrounds. Maybe you prefer to work alone, but it doesn't mean that you have fewer opportunities available to you or any less to offer to a company. It's all about your self-awareness and how you match your abilities with suitable possibilities. We are here to help you with your job search. Visit our job board to see if there is an opening with your name on it!